For the last couple weeks I've been watching this anime in bits and pieces on my lunch breaks at the library:
While I picked the Sakamoto anime up on a whim and haven't yet read the manga, I thoroughly enjoyed this series and recommend it for anyone who wants a lighthearted and humorous romp.
That said, a lot of the humor may be lost on people who aren't already familiar with anime tropes- much of the hilarity comes from the ridiculous setups, recognizable character models, and punny wordplay, all of which generally poke fun at often overused or exaggerated scenarios.
Sakamoto himself is the star of the show, of course, and he is a character that is impossible not to like- some students love him, some want to be him (or beat him), but he is completely on another level- aloof and magically skilled at never being uncool. At the same time, he's also kind and chivalrous.You can't rustle his feathers, no matter how hard you try. The best part, though, is the variety of inventive and ridiculous ways he manages to circumvent every attempt to thwart him or take him off guard.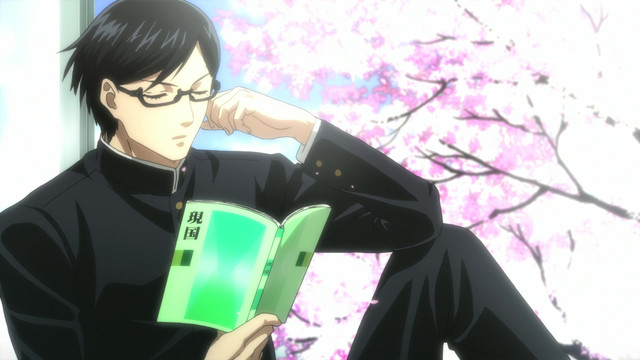 The show takes itself just serious enough to get you invested in the characters a bit, but it's extremely fun to simply go along for the ride and see how many times suspension of disbelief can be crushed, or how many times the fourth wall can be broken by a side-character's casual observance.
I recommend Sakamoto for you, your Mom, your dog, your boss, and every childhood friend you no longer communicate with.
Try Sakamoto today!