Thanks a bazillion to Megan of A Geeky Gal for nominating me for this really fun award, featuring SUPER SPECIFIC QUESTIONS! I really appreciate it, community is what makes blogging fun, and I've met so many cool people through blogging!
And also thanks to Matt of Normal Happenings for creating this award! It's an interactive and engaging idea.
So! Here are the rules for this award:
The "Rules"
You control your own destiny. If you desire Normal Happenings Super Specific Sunshine Award, the nomination process is as follows.
Respond to at least one super specific question in the comments.
If I like your answer even a little bit, I shall dub you "Nominated," and exchange some witty repartee.
Respond to all questions on a blog post of your own, then come up with ten more super specific questions.
Link back to this post (or not, doesn't bother me).
Encourage others to do the same, henceforth propagating an internet macro for centuries.
Bask in the glory of your newly earned Normal Happenings Super Specific Sunshine Award!
Super Specific Questions from A Geeky Gal
It's Karaoke Night! What song are you singing?
I LOVE KARAOKE! I usually go for soulful songs or powerful rock ballads from artists such as Journey, The Cranberries, KISS, The Cars, Ozzy, Genesis, Fleetwood Mac, and Led Zeppelin.
If someone really wanted to understand you, what would they read, watch, play, and listen to?
Read: Transgressive fiction
Watch: Vampire movies and epic fantasies
Play: Otome games
Listen to: Diabolik Lovers drama CDS XD
What movie made you so sad that you could never watch it again?
When I was a little kid in the 90's my parents rented this vhs from blockbuster and sat me down to watch it. They still fondly recall sometimes the story of how, when the movie was over, they asked me "So what did you think of the movie, Shauna?" and I turned to them, tears streaming down my lil' face, and bawled "IT WAS HORRIBLE!"
It's about a boy and his dog lost in the woods together. There is a scene *spoiler alert* where the kid and his dog are finally found and a rescue helicopter comes to save them but they can only take the kid. They have to leave the dog behind, and the kid is screaming, held back by the rescue crew as the helicopter raises higher and higher, noooo my dogggg, I can't leave my dogggg! and I was pretty much scarred for life.
If you dropped everything right now and went on a road trip, where would you go?
Japan isn't really accessible by road so….. Banff! I want to soak in some hot springs and see the beautiful scenery. I would also love to visit my friends in Calgary and Nanaimo.

You can play match maker with any two characters of any genre, what characters would you pick and what would their first date be like?
I want to see InuYasha take Kagome on a proper date with no alternate context. YOU CAN'T RUN AWAY FOR EVER, INUYASHA!
InuYasha has to take the initiative. Window shopping, fancy dinner in a restaurant, an evening at the theatre. Who knows where the night will lead?
It always drove me CRAZY that InuYasha was obviously so in love with Kagome but always hid it, CRAZY I TELL YOU.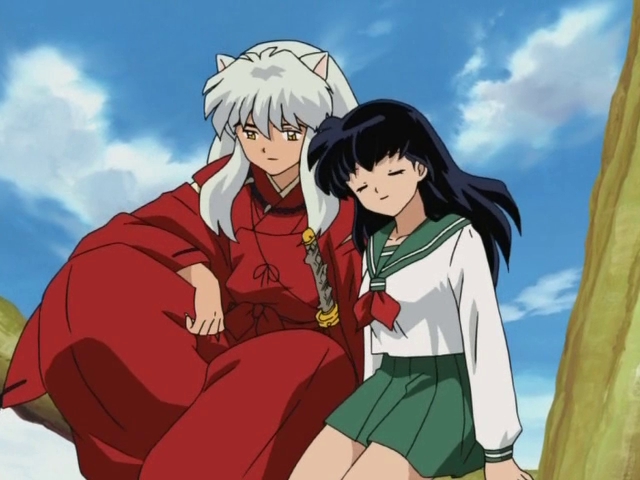 If I were a billionaire and I wanted to hire you to be make my life better/easier, what would I hire you to do?
Hmmmmm good one….  I'm pretty good at cleaning, and I could maybe entertain you with some very basic ukelele songs?
How many pillows do you sleep on and why?
I have one pillow, and I am VERY particular about my pillow! It must be squishy enough to wrap behind my neck and around my ears- not too firm, not too flat. Sometimes I even take it with me when I am traveling if I know that a hotel has crappy pillows.
The worst kind of pillow for me is one that's too firm >.<
You die. Credits start rolling past you. What are some of the strangest roles other people have played in your life?
WOAH this is such a great question!
-First Kiss Boy: Kevin Bacon (no relation)
-Mutually Johnny-Depp Obsessed Girl
-The Coolest Woman You'll Ever Meet
-Racist Jerk on Public Transit
-Loud At 2AM Roommate
-Very Sexually Active Roommate
-Drug Paraphernalia Roommate
-Shawol insta-friend
-Witch at the Bus Stop
Happiness is worth the wait, though I wish I'd known I needn't have waited.
🙂
What kind of people do you hate the most?
Hate is a really strong word that I don't use often, but I think it's safe to say that I hate animal abusers.
Super Specific Questions from HideNGoShauna
You're at a geek convention. You've got $1000 to blow. If you could only choose one of the following, which would you rather spend your money on: plushies, posters, or figurines?
What fictional character do you look up to as a role model or inspiration, and why?
Explain an outlandish belief or misconception that you had as a child.
What is a profession that you'll probably never do but think you would be good at and/or enjoy?
Do you have any special or unique traditions with your family or friends?
What would your catchphrase be if you were a 90's hero? (Example: In the Name of the Moon, I will Punish You! – Sailor Moon)
If your life was made into a movie, who would you want to play you?
What was your favorite childhood toy?
Do you prefer city life or country life?
What's on your bucket list, and have you completed anything yet from it?
I nominate:
and if anyone else wants to do this, I will nominate you too 😉 leave me a comment.