I picked this movie up at the library as it's been a while since I watched a zombie movie. My hubby Dustin said he's over zombie movies, but I convinced him to watch it with me tonight, and it didn't take long before we were invested in the plot and characters.
A workaholic father, recently separated from his wife, heads out with his young daughter to take her to see her mother in Busan. Someone odd has managed to limp onto the train among the many passengers.  The train has barely left the station before an attendant is attacked, leading to a chain of events that causes infection and panic to spread rapidly throughout the carriages.
This is a really solid, tightly plotted film with a good balance of action, emotion, and lots of YESSSSS and NOOOO!!!! moments. You see early on that the zombies are fast, ruthless, and dumb. They swarm and crowd, scrambling over each-other in waves and crashing onto screaming victims.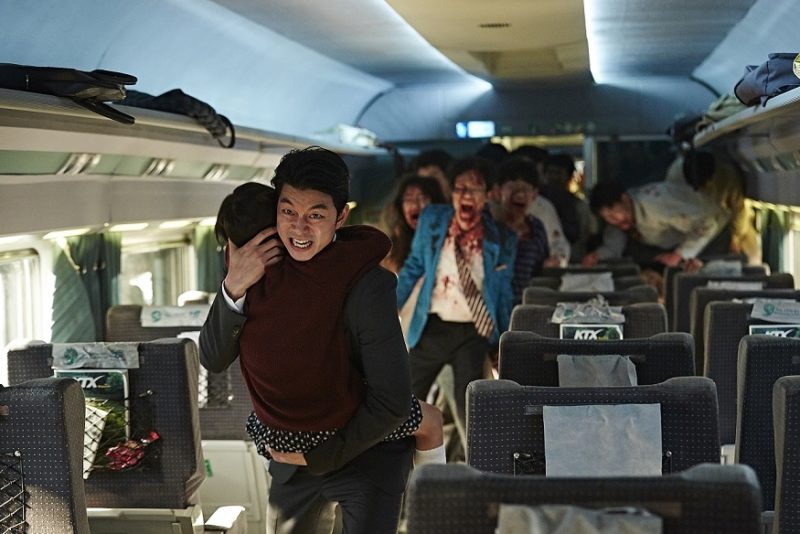 As the movie progressed, we were rooting for certain characters, pleaing with them to do or not do certain things. Contrastingly, there's at least one character that we grew to hate (you'll know who if you watch the movie!) and we were urging him toward a slow and painful demise…
While a few common tropes are used, and occasionally a zombie's facial expression or movement feels a bit campy, overall the film is gripping and gives you a believable taste of what might surmisedly happen if a train full of people suddenly found themselves cast into infectious chaos. The infection doesn't stop at the train- there's an entire messed up world to face. There are also some surprising plot twists that I really appreciated.
I definitely recommend Train to Busan. It had me tensing up in my seat a lot, anxious for the main cast of characters. It engages you from beginning to end and leaves you sated with lots of feels. I can't help myself from ending on a cheesy line- this train is an entertaining ride!